Since its foundation Antica Barbieria Colla has always stood out for the use of specific products in its various treatments, which were specifically developed after a deep customers' needs and expectations study.
Around 2010, as a consequence of the great request from clients and friends, Francesca Bompieri, Franco's daughter, decided to join the family business, making her communication and graphics design studies and skills available to the company; she personally took care of Antica Barbieria Colla Hair and Beard Product Line, which until recently was meant for the salon only.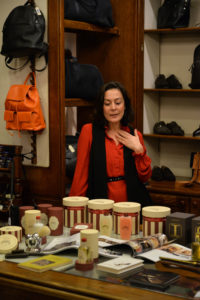 First of all Francesca dealt with the creation of the line corporate identity, so that it could fully embody the elegance and style of Milan's oldest barber shop.
Then, she focused on products distribution with two main goals in mind: allowing the salon customers to live Antica Barbieria Colla experience again at home and making the product line available to a wider audience, far beyond Milan's borders. Thus, in 2013 the online shop was born and it immediately had a great success even abroad; this led to the development of a close partnership with the Japanese market, where the line is particularly requested.
Finally, Francesca also contributed to expand the product line by introducing in 2014 the three Aftershave Milk references, making available to the general public the beard products since 2015 (namely the shampoo, conditioner, oil and waxes) and relaunching the four colognes in 2016, after they had been missing from the market for quite a long time.