Franco Bompieri has been the last barber to own Antica Barbieria Colla and he has always claimed to be interested in two things only: hair cutting and writing.
Born in Volta Mantovana in 1934, a barber since the age of nine, Franco arrived in Milan in 1949, right after the end of World War II. As Italy and Milan were rebuilding their own identity, thanks to his job Franco had the chance to get to know and serve men from different walks of life: the street cleaners of his first employment in the Lambrate area, the bicycle thieves of the shop in via Marco D'Oggiono, the gentlemen from the Hotel Continentale and eventually the well-known clients of its own salon, Antica Barbieria Colla, where quite often art and literature were subject matter for discussion. Many eminent Italian personalities have been attending the shop, such as Cesare Romiti, Giulio Malgara, the Tronchetti brothers, Enrico Cuccia, Luchino Visconti and Enzo Jannacci.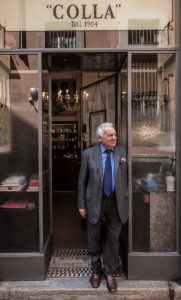 In his spare time, usually overnight, Franco was also a writer.
The biggest Italian publishing companies have published Bompieri's books: "Il freddo nelle ossa" (1975) published by Longanesi and Feltrinelli, "Arriva il Principe" (1978) published by Il Formichiere and Scheiwiller, "Antica Barbieria Colla, ovvero della salute dei capelli" (1980) published by Feltrinelli, "Augusto di Setteprati" (1984) published by Sipiel and Mondadori, "La chiave sulla porta" (1991) published by Sugarco Edizioni, "Ai margini: racconti italiani, a cura di Mario Spinella e Massimo Cecconi" (1991) published by Franco Angeli, "Un'allegra disperazione" (1998) published by Mondadori, "Presi per i capelli" (2000) published by Mondadori, "Antica Barbieria Colla: 1904-2004" (2004), "Pietre e ritorno" published by Rizzoli (2011), "Robinie a Manhattan" published by Rizzoli (2012).
Franco and thus Antica Barbieria Colla reflects a city that does not exist anymore: the same place where the sweepers of the movie Miracle in Milan or the pickpockets and the immigrants of Rocco and His Brothers lived, and also the elegant city where Luchino Visconti spent his life. He is a "craftsman of elegance", who experienced hunger, but also attended La Scala theatre, met street cleaners and princes, thieves and important bankers.