Absent from men's faces for many decades, the beard has recently made its triumphant comeback as an emblem of masculine beauty and charisma. For about ten years now, the trend has been more alive than ever: barely hinted, medium or long, there is no man who hasn't tried to show it off for at least a few months. But wearing a beard also means taking care of it consistently and, above all, providing for regular cleaning.
But how to wash your beard? One of the most frequent mistakes when managing a beard is to believe that it can be simply rinsed in the shower or washed with a hair shampoo. Yet, to show off a beard that is always soft, shiny and tidy, you need to make use of specific products. Here are some useful tips.
How to wash the beard
Washing the beard is a true ritual, which should be separate from the normal daily hygiene routines. So a quick shower or rinse when you clean your face is not enough, you need to dedicate some time every single day. But what are the steps?
Moistening the beard: the first step is to moisten the beard, to prepare it for the product. It is necessary to do it with warm or hot water, albeit not excessively, so that the pores of the skin open up and thus it is possible to remove impurities more easily;
Apply the shampoo: at this point, pour a knob of shampoo on the palm of your hands and, gently, apply it all over the beard. It is also useful to massage the face with the fingertips of the hands, making circular movements, to clean the skin and facilitate the detachment of dead cells;
Rinse the product: after a few minutes of massage, the shampoo should be rinsed with plenty of warm water;
Dry your beard and face: using a towel, pat your beard to absorb excess water. It is necessary to dab but not to wring, to avoid damaging the hair. If possible, after drying, pass the comb to tidy up your look.
Regarding the timing, we recommend at least a daily water rinse and a passage with shampoo approximately every two days.
Which products to use?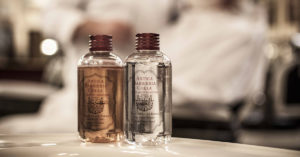 The product choice  is really important for a beard that is always shiny, soft, healthy and tidy. For this reason, for some time Antica Barbieria Colla has been offering solutions designed specifically for its care. Starting with the shampoo:
Darkwood Beard Shampoo: specifically designed for cleansing the beard, this product is based on magnesium. The mineral helps reduce skin irritation, prevents itching, regulates excess sebum, stimulates blood circulation and improves skin elasticity. Its perfumed and non-aggressive formulation allows for daily use.
In combination with the shampoo, you can also think of an oil, to be applied after drying, and a conditioner:
Bitter Orange Beard Dry Oil: specifically meant to soften, moisturize and restructure the beard, giving it shine. It is suitable for all beards, from the softest to the most bristly, thanks to its pleasant fragrance. It is applied on the dry beard and due to its characteristic texture it is already "dry" in a few moments, thus avoiding to grease hands, phones, shirt collars etc. when applied;
Jojoba Oil Beard Conditioner: rich in minerals and vitamins, especially vitamin E, jojoba oil is widely used for hair and skin care. Its chemical composition is in fact similar to that of human sebum and makes the beard soft, shiny, easy to comb and manage. It is a balm that needs to be left on the beard for a few minutes, combed and then rinsed with warm water.
We remind you that until November 30, 2021 it is possible to take advantage of the Black Friday promotion, which allows you to purchase these products with 20% discounts. Discover the promo code.