A classic product beloved by our customers, now in a new version: Antica Barbieria Colla's Hard Shaving Soap has now a new fragrance, thanks to the intense notes of red sandalwood. That's right: a new version for an even more involving experience during shaving, with the well-known quality of Antica Barbieria Colla.
Red Sandalwood Hard Shaving Soap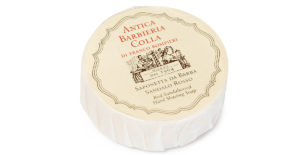 The great success of our Almond Oil Hard Shaving Soap, one of Antica Barbieria Colla's most beloved products, urged us to to propose a new experience to all our customers. That's how the Red Sandalwood Hard Shaving Soap is born, a solution that retains all the most appreciated characteristics of our classic soap, while offering a completely new olfactory pleasure.
The new Red Sandalwood Hard Shaving Shaving Soap is entirely handcraft-made made and it's designed to soften both skin and beard hair, so that the razor's action does not cause irritation, redness and other problems. The scent of sandalwood is that extra note of pleasure, a choice anything but coincidental: this exotic, rich and full-bodied fragrance has always been one of the most popular. Not surprisingly, it is often used in aromatherapy to harmonize the senses and lift the mood.
How should you use it?
You can use the new Red Sandalwood Hard Shaving Soap in the same way as our classic almond oil version. In detail, we suggest you:
Fill a bowl with warm water and let the brush soak for a few minutes to soften the bristles;
Gently squeeze the brush to remove excess water;
Rub the brush over the soap in circular motions to work up a white, thick and creamy lather;
Apply to the face evenly, then proceed to shave.
The same experience as always, but enriched with a new and captivating olfactory note, for a shave that is increasingly synonymous with well-being, both for the skin and the mood. The Red Sandalwood Hard Shaving Soap is already available in our online shop, at the same price as the classic version.