Indispensable for ensuring impeccable daily hygiene, deodorant can turn into a valuable ally for taking care of men's skin and better managing sweating at any time of year, even when high temperatures require some additional precautions.
The choice of deodorant for men should never be left to chance, meeting individual needs and evaluating the wide variety of products taking into account individual formulations, in order to preserve even the most delicate skin prone to easy irritation.
Which deodorant for men choose
The primary function of deodorant is to neutralize the proliferation of bacteria that cause unpleasant smells; however, there are many types available, from cream deodorant to roll-on deodorant, from stick deodorant to spray deodorant.
The spray deodorant, in particular, provides optimal effectiveness and is characterized by certain advantages over the other types:
it prevents direct contact with the skin, limiting the risk of bacterial or fungal contamination;
it is able to distribute evenly over the entire axillary area;
vaporization ensures that the product does not accumulate in skin folds, even depositing unsightly stains on the tissues.
Contrary to popular believes, not all spray deodorants contain alcohol, a component that can irritate the epidermis especially in the post hair removal phase, as well as other substances that can interfere with the hormonal system.
Alcohol-free Deodorant Spray by ABC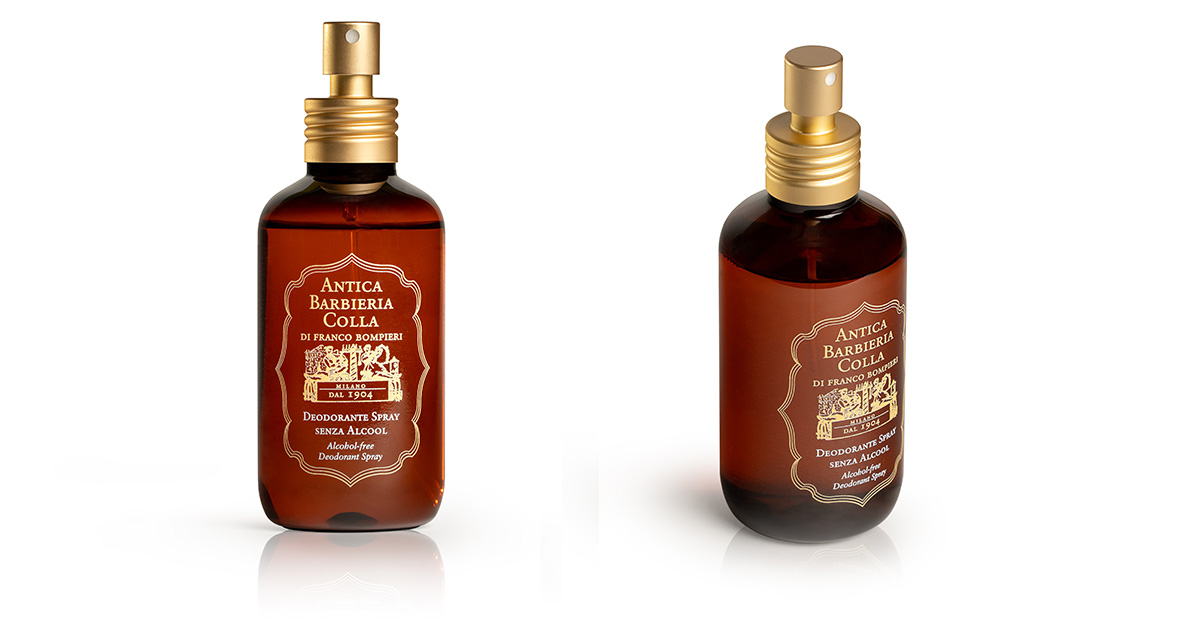 With the goal of ensuring maximum hygiene while respecting the physiological balance of the skin, Antica Barbieria Colla created the Alcohol Free Deodorant Spray that is part of the Men Skin Care Collection line, ideal for deodorizing the most sensitive skin.
It is an anti-perspirant spray deodorant that normalizes sweating and repairs from burning and redness, thanks mainly to the presence of aloe and spirulina Algae that deeply moisturize the skin.
How to manage sweating: useful tips
Regularly using an antiperspirant deodorant after daily hygiene is the first step to take to better manage sweating, even in summer. To limit the discomfort caused by excessive sweating and feel comfortable in any situation, moreover, some effective tricks can be put into practice:
prefer clothing made from natural fibers, such as cotton and linen, and avoid synthetic fibers instead;
avoid overly tight-fitting clothes that restrict perspiration;
wear clothing that is preferably light and cool, limiting dark colors that absorb more sunlight and contribute to higher body temperature.
Check out all the products in the "Men Skin Care Collection" line and stay up-to-date on ABC's news by signing up for our newsletter!