The mustache will be the real protagonists of the month of November that is about to begin. For several years now, this period has in fact been dedicated to an extraordinary initiative: that of Movember. An opportunity not only to show off an original mustache, but also and above all to think about men's health. But which style to choose for your face?
Born in the early 2000s, the Movember celebration invites men to marry a mustached look for a good cause: to raise awareness of men's health, both physically and mentally. And Antica Barbieria Colla, on the occasion of this anniversary, has created a special promotion for its newsletter subscribers: until November 5 2021, by purchasing two beard care products, the Extra-Firm Mustache Wax will be for free. But let's see how to transform your face in view of the month of mustache.
Pencil mustache: for thin and hairless faces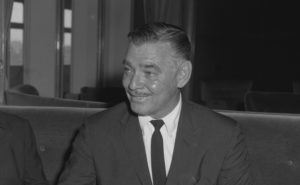 Pencil mustache represent one of the timeless classics of masculine elegance, very popular in the first half of the 20th century. Not surprisingly, it is the style adored by Clarke Gable, the true gentleman of Hollywood cinema of yesteryear. Their name comes from their thin shape and hinted growth, as if they were drawn above the upper lip.
It is the perfect choice for those who are looking not only for a small mustache, but also for those who have a thin face, to define its lines, or who cannot afford a full beard because of sparse growth or with hairless areas.
 Chevron mustache: for round faces and thin lips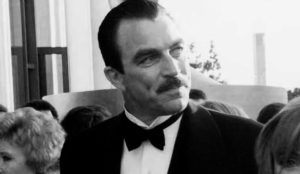 Picture of Alan Light via Wikipedia
Widespread in the 70s and 80s of the last century, the so-called Chevron mustache characterized an entire era. This was also thanks to very popular characters such as Tom Selleck, who still does not disdain to show them off, but also to some recent revivals such as that of Henry Cavill. It is a very thick mustache, kept at a medium length to cover the upper lip. It is said that the name derives from the angle brackets also known as chevron, which take a "V" shape very similar to this mustache, but the interpretations are many. For example, in Italy this style is remembered as that of the "peasant mustache": precisely because farmers could not allocate large sums to the barber, they opted for this thick style independently manageable.
They are ideal for round faces, especially if in the presence of an important neck or, again, very thin lips. But that's not all, as they are also chosen by those who want to divert attention from an important nose, making it appear smaller.
English mustache: for triangular and elongated faces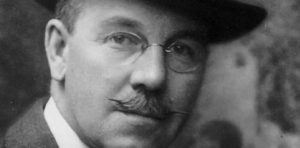 Nostalgic memory of other times and a symbol of nobility, the English mustache is returning with a certain arrogance among the preferences of modern man. They are characterized by two long barbels which, exceeding the extremities of the upper lip, grow slightly curled on the sides. However, they should not be confused with the handlebar mustache, as their shape is thinner and the crease is only slightly hinted.
This style, which requires a certain skill with the daily use of combs and waxes, is recommended for those who have a triangular and very elongated face: the mustache, with its extension to the side of the face, visually widens it.
The timeless handlebar and Dali mustache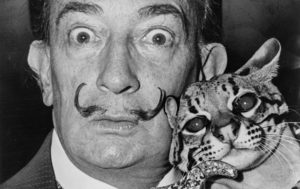 Picture by Library of Congress via Wikipedia
Finally, there are two timeless styles that, cyclically, return to the limelight on men's fashion. The first are the so-called handlebar mustachs, very popular in the Hipster community since the early '10s. They require some skill in creating the perfect hedgehog and can be sported either alone or accompanied by a full beard.
The latter are instead a real brand of style, a universal icon: the unmistakable Dali mustache, still inimitable today.