The Antica Barbieria Colla colognes received a dedicated space in Panorama, one of the most important and historical magazines in Italy. In the 16 November 2022 issue, Antica Barbieria Colla becomes the chosen symbol as a historical institution of Milan and a new brand "also for the new generation of men".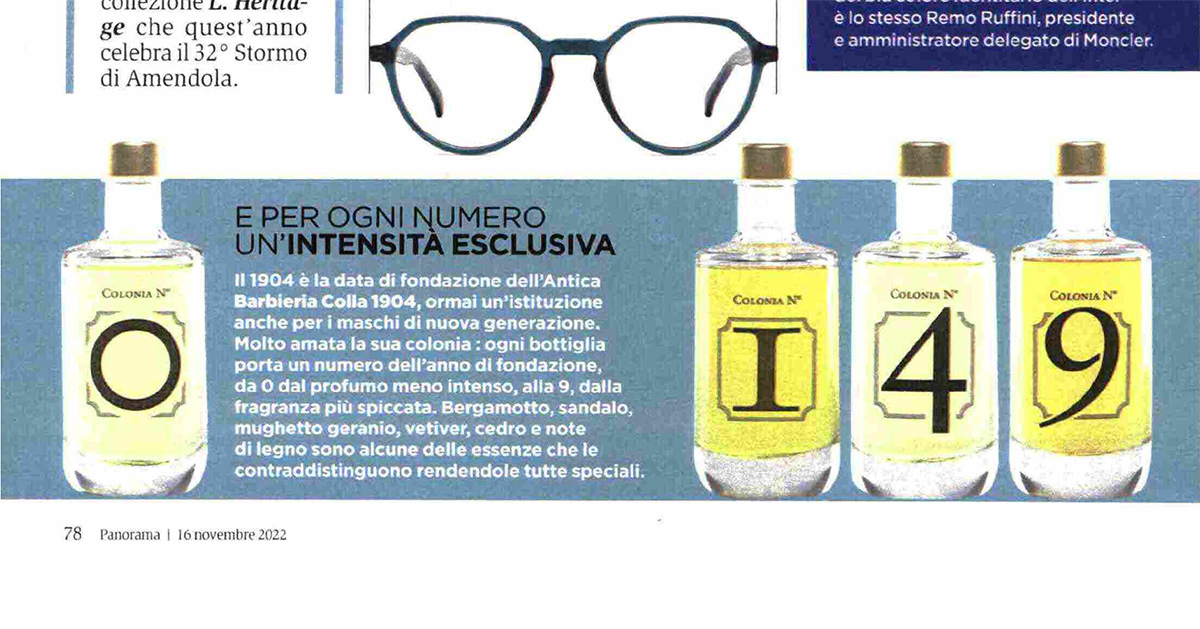 Bergamot, sandalwood, lily, geranium, vetiver, cedar and wood are the notes that have always characterised our fine Colognes 1, 9, 0 and 4. As reported by Panorama, these are special essences, where each number distinguishes an exclusive intensity. Yes, because as our passionate customers may already know, the Antica Barbieria Colla colognes were renamed in honour of the year the shop was founded – back in 1904, in fact – and are the symbol of the various souls that have always distinguished this unique place in Milan.
Colonia 1 features a composition with sophisticated accords, which opens in the nights of bergamot and citrus fruits, to blend into a rich bouquet of flowers such as jasmine, ozonica and gardenia. Cologne 9, on the other hand, opens with the soft notes of sandalwood, then shows an intense and velvety heart with accents of lily of the valley and geranium, anticipating the enveloping richness of musk, vanilla and the precious petitgrain bas.
Cologne 0 debuts with notes of birch and bergamot, then shows a radiant character of juniper and artemisia, as well as a vetiver heart and a cedarwood and oakmoss base. Finally, Cologne 4 presents a sunny and luminous fragrance with lemon, rosemary and lavender. The heart is essence of carnation and orange, which blends with neroli and rosemary, and then opens to a base of cedarwood and turmeric.