The art of shaving is a very timely topic and since a couple of years it ignites lively debates among the strong defenders of the different schools of thought.   
Besides, many articles have been written, especially in the last few years,  according to which "Male Grooming", Male Spas and Male Make-Up are on the rise.
I am glad to hear that, but at the same time it makes me smile, since 7/8 years ago people used to tell me "Beard is fashionable now, but then?" or in the last 3 years "Beard is outdated, what are you going to do?", and now they say "You should count yourself lucky, male grooming is growing".
I do count myself very lucky, not only because of the business trend of the moment, and I do believe when a solid tradition is behind what you do and due to it everything you do has a meaning, even if trends keep changing, you are knowledgeable about what you do  and this will always be acknowledged.
In our shop, shaving has always stood for the traditional Italian shaving, a true ritual with some distinct moments: each of them has its specific purpose, but all together they contribute to a moisturized, soft and supple skin once the treatment is over.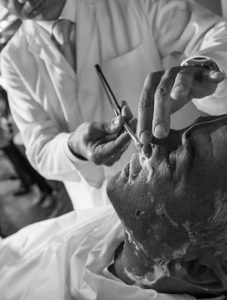 First of all, it is essential to soften the skin and the hairs: this will help to draw the razor and to avoid rashes.
This is why our treatment starts with a face massage with our Almond Oil and Aloe Pre-Shave Cream, which thanks to its composition has a double action: softening on the one hand, refreshing and smoothing on the other. After that we apply a hot towel to open the pores and let the product in more deeply.
Next, the Almond Oil Shaving Cream is applied: its formula was carefully designed to soften the skin even more and to act as a protective barrier between the balde and the face, avoiding skin redness. 
The soap is spread with circular movements using the Natural Bristle Shaving Brush: it's made of pig bristles which makes it easy to melt the soap down and ensures a deeper skin massage.
Following the actual shave, there is one last fundamental step: soothing the skin after it has been stressed by the razor. To do so, our barbers will massage your face again with the Apricot Hull Aftershave which is calming, cooling and softening, and apply another hot towel to lock in moisture. The treatment ends with a final massage to nourish the skin with one of our Aftershave Milk: the customer can choose among three fragrances the one he likes better.
Then there's also the straight razor shave, which in my opinion is even more fascinating, but we'll talk about it later on.